Looms for Band Weaving
Looms with warp and cloth beams
We offer looms intended for tablet weaving, but usable for rigid heddle work. The exact size is negotiable, but the two standard sizes are:
Length
Working
width
Height
Price
Standard
26"
10"
9"
$200 (US)
Small
19"
8"
8"
$175 (US)
Both sizes actual width is about five inches wider due to the posts and the handles and all that.
Looms are built out of hardwood (maple, beech, ash, cherry, walnut, and sycamore have all appeared in looms). The only metal bits are the two half-inch pieces of three-penny nail that keep the pawls on their shafts. Corners are dovetailed; the side rails have tenons longer than wide. It's not going to come apart in use.
The looms measures about 26 inches long. The beams have 10 inches of working width. I am not sure just how much warp you can put on the rollers. We routinely work with five yard warps. Judging from the space that takes up, ten yards should be no problem, with fifteen being conceivable.
Capacity: we loaded 14+ yards of 5/2 perle cotton warp; it just fit. 15 yards would appear to be a reasonable upper bound.
We also have a smaller version that actually meets the usual requirements for carry-on luggage. It is short enough to work while riding in a car.
Instructions on how to warp the loom are found here.
| | | | |
| --- | --- | --- | --- |
| | | | |
| | | Comparison of looms | |
Inkle Looms
Inkle Looms are available in several sizes, yielding from eight feet to four yards of band. Prices range from $95 to $115. The loom pictured below is the four yard size.

Oseberg Loom
The Oseberg looms below cost $45. They break down into three sticks and two pegs.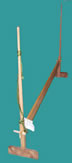 Accessories
Wooden tablets (1.5") run $1.50 apiece; "Bicycle" brand (yes, I cut up virgin playing cards) for 10 cents apiece in bundles of 25, both 1.5" and 2.5". We now also carry eight holed cards, 2.5" across, at 15 cents apiece.